Trusted iCloud Removal for iOS 12.3.1
Have you ever got stuck with an iCloud activation lock? Then, you do not need me to describe the unpleasant and irritating experience you faced I suppose! Therefore, this iCloud Removal for different iOS devices is a constant debatable question asked by many Apple users. However, today in this article, we will concern about more facts of iCloud Removal for iOS 12.3.1. So, if you keep reading this article until the end, I vouch that you will learn many interesting facts about not only iCloud Removal for iOS 12.3.1 but also about iCloud that you never heard before.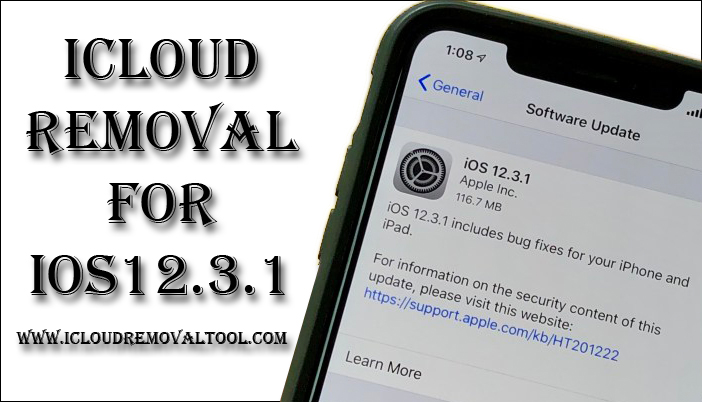 Methods of iCloud Removal for iOS 12.3.1
If you are looking for methods of iCloud Removal for 12.3.1, there are plenty of things you can do. Therefore, just have a look on below iCloud Removal methods for your iOS 12.3.1 device.
Request the previous owner to remove his or her iCloud details
This method is one of the most convenient methods to do iCloud Removal in a situation of a second-hand purchase. In fact, this method will be the most preliminary method that you can follow if you purchase a second-hand iOS device and found that you can't get inside the device due to a prevailing iCloud lock.
Especially, that means that your previous user has either forgotten or not removed the details of his iCloud account from the device. As a result, the iCloud lock still asks for the Apple ID and the password of the previous users for you to log into the device.
On such occasion, you can contact the previous owner of the iOS device and ask him to remove his details from it and then automatically iCloud Removal for iOS 12.3.1 also will be done then.
iCloud Removal for iOS 12.3.1 by using offline iCloud removing tools
If you ever searched the web, you will find that there hundreds of different offline iCloud Removal Tools that you can download. Doulci iCloud Unlock, CellUnlocker, LockViper are some popular offline tools on the web.
However, when using offline tools for iCloud Removal for iOS 12.3.1, you have to purchase them and also download them to your device as well. Anyway, there are also few free offline tools like Doulci iCloud Unlocking tool for iCloud Removal for iOS 12.3.1.
By using online iCloud Removing tools
If you don't want to download offline iCloud Removing apps to your device, you can visit online iCloud removing websites and do your iCloud removal easily.IMEI iCloud Net, Official iCloud Removal Service are two such efficient online iCloud Removal services available on the web.
In most of the online iCloud Removal services, they use the IMEI method in which you need to supply only IMEI number to remove your iCloud.
No matter whichever the method you choose to do iCloud Removal, but please keep in your mind to check on the safety, time, reliability and the price before you start doing the iCloud Removing.
Instances where you need to have an iCloud Removal for iOS 12.3.1
Basically, you need to perform an iCloud Removal in each occasion where you are unable to unlock the iCloud activation lock normally.
To remove the iCloud lock normally, you need to supply both Apple ID and the password of the iCloud account linked to that particular device.
Therefore, if you forgot both Apple ID and password or if you don't know them, you will be unable to unlock the iCloud lock of your iOS 12.3.1. Thus, you will need to do an iCloud Removal for iOS 12.3.1.
Hope you learned more facts about iCloud Removal for iOS 12.3.1!
Summary
Author Rating





Software Name
Operating System
Software Category
iCloud Removal for iOS 12.3.1
Price
Landing Page